The B & B Amici Country House has 3 bedrooms all with bathrooms decorated in country style , furnished with stylish furniture , elegant and refined. Adjustable temperature. Each room, like the breakfast room, is equipped with free wi-fi.
Breakfast is a sweet continental buffet  with pies, cookies and donuts homemade, fragrant and prepared the day before. Coffee, cappuccino and hot drinks are prepared with professional machine for bars which uses coffee beans. English breakfast  on request, extra cost (see price list)
For our choice commercial cakes, biscuits and snacks and are not proposed (if not expressly  required). The same for beverages in caps or pods, because we believe that an  healthy breakfast is the basis for beginning a good day.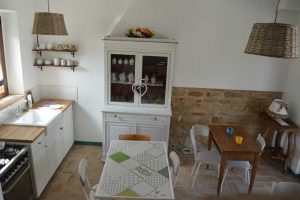 Facilities included in room price